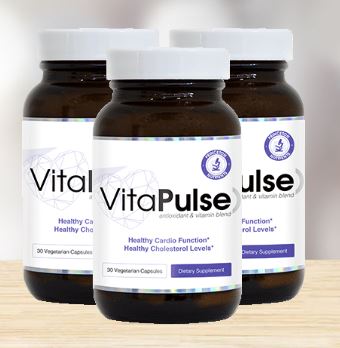 VitaPulse is a supplement which is said to help improve energy and memory, while decreasing body fat and improving heart health.
Sponsored links

About VitaPulse
VitaPulse is an advanced antioxidant supplement, sold by Princeton Nutrients. It is claimed to help reduce stress, improve memory, decrease body fat, and improve overall heart health. While such claims have not been proven to be true in studies, the ingredients in VitaPulse are generally believed to provide a variety of health benefits.
How Much Does VitaPulse Cost?
VitaPulse is available on the official website for the following prices, as of January 2016:
1 Bottle – $49.00 + a $6.95 Shipping Fee
3 Bottles – $127.00 + Free Shipping
6 Bottles – $235.00 + Free Shipping
If you're not satisfied with the product, VitaPulse lists a 90-day money-back guarantee, which refunds the entire cost of your purchase, with the exception of shipping costs. Refunds can be obtained by calling the company at 866-427-3019 (free of charge,) or emailing [email protected]
Although a handful of customers have reported having difficulty reaching service reps, online representatives have been proven to be responsive and helpful.
Does VitaPulse Work? Our Review.
There is not a specific way to determine if VitaPulse works, so it's recommended to look over both user reviews, and studies of the individual ingredients. However, user reviews can be quite subjective and varied; it may be wise to consider the studies performed on the actual ingredients, and compare them to the claims of the product's marketing.
Sponsored Links
There is no conclusive proof and very limited information overall as to whether or not this product or its ingredients will work as well as Princeton Nutrients states. Therefore, whether or not VitaPulse is worth the purchase is entirely up to personal choice.
VitaPulse Ingredients
VitaPulse has three major ingredients.
CoQ10 – A vitamin-like substance which has "good scientific evidence" for its use with heart failure and high blood pressure. Its side effects are mild insomnia, dizziness, rashes, heartburn, headache, and fatigue.
NAC – Originating from the amino acid L-cysteine, NAC has a large list of possibly effective uses, such as chest pain, bronchitis, COPD, kidney disease, heart attack, and flu. Its possible side effects are nausea, vomiting, rash, and fever.
PQQ – A popular antioxidant said to support brain and nerve health, cancer protection, and helps with the growth of mitochondria. A study conducted in 2008 reported PQQ "prevents the oxidative damage of the nervous system."
Altogether, the three primary ingredients in VitaPulse are quite popular choices, and have a number of studies that show their effectiveness. All the side effects listed above are considered minimally concerning.
What others say about VitaPulse
On Supplement Police, VitaPulse has received an overall rating of 3.8 out of 5 stars. One consumer writes: "I have been taking this for 2 months now and have noticed my chest pains are fewer and my joints don't hurt as bad as they were. I didn't want to believe this would really do what it says but gave it a try anyway since they do have a money back guarantee. However, I am now thinking it may be what is helping me as I stopped taking all other vitamins while taking this this to be sure."
On Amazon, VitaPulse had a 3.7 out of 5 star rating before it disappeared from the site. One customer's feedback stated: "I ordered mine through the manufacturer and had a 100% money back guarantee if I didn't feel a difference in 60 days. I also watched a 40 minute dissertation/video on why we should be taking this by the doctor who created it. I am so pleased to say that I took it to my cardiologist and he was very impressed with the product and the way it was manufactured and by whom. Everyone over the age of 40 should be taking this he said. They do run out occasionally on there site so i have to buy it here its nice that Amazon offers this too."
WebMD. You may be interested in a discussion about VitaPulse from users on WebMD, found here.
Bottom Line
VitaPulse, a supplement marketed to help cholesterol levels and overall heart health, may offer a variety of health benefits. These claims have not been proven by official studies, results are highly subjective and varied, and the ingredients in VitaPulse, CoQ10, NAC, and PQQ, can be individually purchased at local retailers.
Your VitaPulse Reviews
Have you used VitaPulse? If so, please consider leaving a comment below.