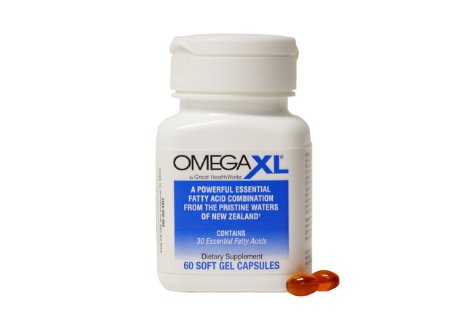 Omega XL is advertised on television as a relief for joint pain, back pain, arthritis, or other inflammatory-related conditions. Read our Omega XL reviews from editors and readers.
Sponsored links

About Omega XL
Although Omega XL has been around for several years, the product only added Larry King as its spokesman in 2012. Paid programming spots for the product emphasize the benefits of Omega XL, particularly for back pain. The official website is omegaxl.com, which was registered back in 2004. In 2012 and 2013, the domain tryomegaxl.com was used in advertising, but that now forwards to the primary domain.
Below are some common questions about this product, its cost, ingredients, research, and shipping policies.
Is Omega XL clinically proven?
The Omega XL website and ads cite "30 years of clinical research." While some may believe this 30 years of clinical research may be specific to Omega XL, it appears that they are actually referring to research done for DHA and EPA, and not this specific product, as they write:
Omega XL is a powerful omega-3 joint health supplement formulated with a patented complex of 30 healthy fatty acids, including DHA and EPA, that have been demonstrated in over 30 years of clinical research to relieve joint pain due to inflammation.
Sponsored Links
What is in Omega XL?
According to the official website, Omega XL is "a highly concentrated Omega-3 'Super Oil' supplement extracted from the New Zealand green-lipped mussel." It also referred to as a "patented fish oil complex" which contains "up to 22 times more omega-3 Free Fatty Acids than regular fish oil," which has an asterisk claiming that statement wasn't evaluated by the FDA.
Because Omega XL is a dietary supplement, a full list of ingredients is not required – or provided in this case. It is probably safe to refer to the product as an omega-3 supplement. All that the label tells us is that we're getting 100mg of "Omega Fatty Acids Including EPA & DHA." (See image above.)
Not a Fish Oil?
In the television commercial below, it is clearly stated at the 35-second mark, "It is not a fish oil," yet their website refers to it as a "fish oil complex."
How much does Omega XL cost?
It is about $60 for two bottles, but you will be signed up for their auto-ship program (see below). Below is their price breakdown in 2014:
Buy 1 Get 1 Free w/auto ship: $49.95 + $9.95 shipping for a total of $59.90
When we first wrote this Omega XL review in January 2013, they had additional purchasing options (below), which are no longer on their website:
60-Count (No Auto Ship): $54.90
120-Count (No Auto Ship): $94.95
300-Count (No Auto Ship): $199.95
Beware of Auto-Ship
If you want to order from the OmegaXL.com website, you'll be given a Buy 1 Get 1 Free offer. If you take advantage of this offer, you'll automatically be signed up for their auto-ship program. As the website states:
Just before your initial supply runs out, we'll send you a fresh supply of our 60-count bottle of Omega XL® every month billed to the card you're using today at a very special price of just $60.90 plus shipping and handling for each shipment. You can cancel at any time by calling our friendly customer care department at 1-800-488-8082.
Note that in January 2013, the shipment price was $54.90.
Television Commercial
Here is an OmegaXL commercial (Notice at 35-seconds, it claims that it is NOT a fish oil.)
90 Day Guarantee. Sort of.
If you read their terms and conditions, you'll see the 90-day guarantee has some limitations. The 90 days begin the day of your initial order and do not apply to any auto-shipments after that.
Recurring auto-shipments beyond the 90 day trial period from the initial order date do not qualify for money back guarantee and no refunds will be issued for product returned outside the ninety (90) day period from your initial order date.
History
The chart below shows search interest in Omega XL, which has been steadily increasing for several years.
Bottom Line

Omega XL is a standard omega-3 supplement. There are, however, a few caveats when examining the product's website and advertising:
Conflicting statements about whether or not it is a fish oil.
Auto-ship program
Incomplete 90-day guarantee
Lack of ingredients on the label
Those reasons are enough to take pause when ordering this product. If you want to try Omega XL, we suggest purchasing it from a trusted third party to avoid the unwanted auto-ship program.
There are also many other omega-3 products on the shelf at your local health store, which provide the ingredients and do not come with an auto-ship program.
Your Omega XL reviews

Have you tried Omega  XL? Let us know what you think. We'd like to hear how you thought it worked and about your experience in the ordering process.
Updated December 11, 2015
Originally published January 2013