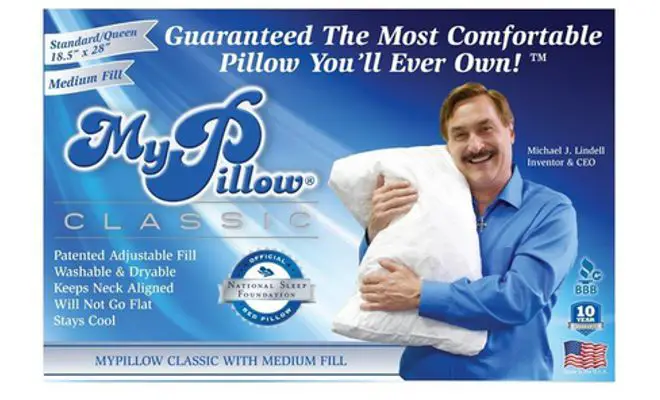 My Pillow is advertised as "The most comfortable pillow you'll ever own." Read our MyPillow reviews from editors and readers.
Sponsored links

About MyPillow
MyPillow (sometimes written with a space, "My Pillow") is promoted by Michael J. Lindell, inventor, manufacturer, and President of MyPillow. The product website, MyPillow.com, was registered back in 2002, and claims that the product has been sold for 10 years. It's unclear, however, why MyPillow.com would have existed 4 years before the product was available.
In mid-2014, the website was overhauled to include several new products which include a mattress topper, premium pillow, travel pillow, and pet pillow. A product called Radio Listeners was added in late 2014. In June 2014, MyPillow was announced as "The official pillow of the National Sleep Foundation." The National Sleep Foundation described this relationship as working with "licensed partners and their products."
Below is a screenshot of the website as it appeared in December 2014. The website appears unchanged as of this August 2015 revision.
How Much Does MyPillow Cost?
MyPillow is marketed as a "revolutionary new sleep aid" and is priced as such. There is also a "premium" pillow which is highlighted on the website.
You can expect to pay anywhere from $60 to $90 for a pillow, depending on specials, coupons, size, or model. The original color-coded system to choose the optional pillow included 5 options: yellow, white, green, blue, and red. Each type was suited to different sizes and genders. We went with the "blue" model for our tests.
MyPillow can be found in some stores, such as the product display (shown above) we photographed at a Bed Bath and Beyond in 2013.
Our MyPillow Review
We had several testers try the Classic MyPillow for several weeks. Some of them had tested other advertised pillows, such as the Sobakawa Cloud Pillow.
Sponsored Links
The directions instruct users to put the product in the dryer prior to use, which we did. It was reported that the "feel" of the pillow was different than expected, with the sensation of small puffy balls under one's head. It may take some adjustment for some consumers. Other observations include:
Pros
The pillow itself is of modest comfort, not really a standout among some of the nicer pillows available at at fine department stores, but certainly not bad.
It can be re-fluffed by placing in the dryer, but this could also be said of most pillows.
It is made in the USA, which is important to some consumers.
The pillow does not seem to be negatively affected by washing.
Cons
There is a slight crumpling noise that accompanies any head turns, which becomes worse when sleeping on the side.
Perhaps related to the crumpling noise is that there is also a "lumpiness" to the pillow. If you watch the infomercial below, the pillow even looks lumpy. Again, whether or not this is a problem comes down to personal preference. Not everyone minds the crumpling or the lumps. The MyPillow website states that the "lumpiness" can be reduced with continued washing.
MyPillow is advertised to stay cool, but our testers reported the opposite. When it is turned over at night, the other side tends to already feel somewhat warm. Perhaps this is a symptom of the heat distribution, but we found this surprising. This is also addressed on the product's FAQ, which asks consumers to make sure they aren't using pillow protectors or cases which aren't 100% cotton.
Our testers rated it a slightly above average pillow comfort-wise, with an above average price.
Classic MyPillow vs Premium MyPillow
It is difficult to ascertain the difference between a classic MyPillow and a Premium Mypillow (as we only tried the classic). The description in the premium model states that it as a "2 inch gusset – Superior neck and head alignment and support across the whole pillow." This would appear to be one difference, although the website is somewhat lacking in details.
MyPillow Infomercial
Below is the a commercial for MyPillow airing as of this August 2015 update.
Other MyPillow Reviews
We've found that other online reviews for MyPillow have changed over the past two years.
Negative reviewers have claimed that the pillow fell apart, had a bad odor, or was simply uncomfortable. One Premium MyPillow product page on Amazon, for example, has over 500 ratings that were only one and two stars, out of about 1050 total (with an overall rating of 3.2 stars out of 5).
Google Trends History
The Google Trends graph below shows search interest in "mypillow" over time. A sharp peak in interest occurred in April of 2012. Since then, interest has largely declined, yet smaller surges appear to occur every December. This may be due to renewed advertising campaigns.

Bottom Line
This product may come down to personal preference. Our testers' opinions weren't overwhelmingly positive or negative. As stated above, we'd say the comfort level is probably slightly above average, but a $90 price tag seems a bit extreme for the top of the line models.
Your MyPillow Reviews
Have you used MyPillow? Let us hear from you in the comments below.
Updated August 7, 2015
Originally published January 2013