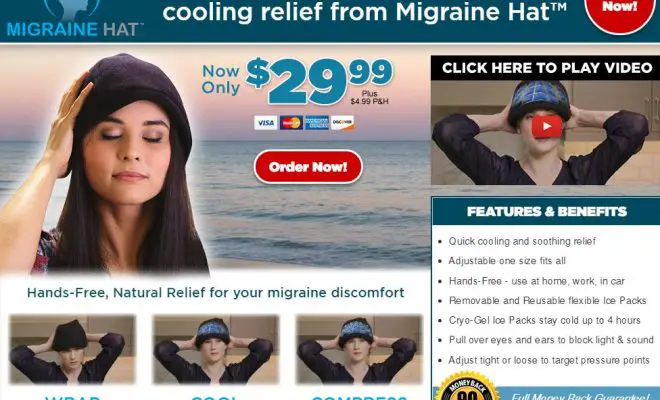 Migraine Hat is an As Seen on TV cap which offers hands-free relief for migraine discomfort. Does it work? Read our Migraine Hat review.
Sponsored links

About Migraine Hat
Migraine Hat is a hands-free ice pack that can be worn on the head to relieve migraine discomfort. It contains a "Cryo-Gel Ice Pack" which is reusable and flexible, so that it can be positioned properly on the head. The pack comes in three sections, each with "compression chambers" that resemble a flexible ice cube tray.
The official product website is migrainehat.com. The domain was registered in March 2016. The screenshot below shows the official website in May 2016.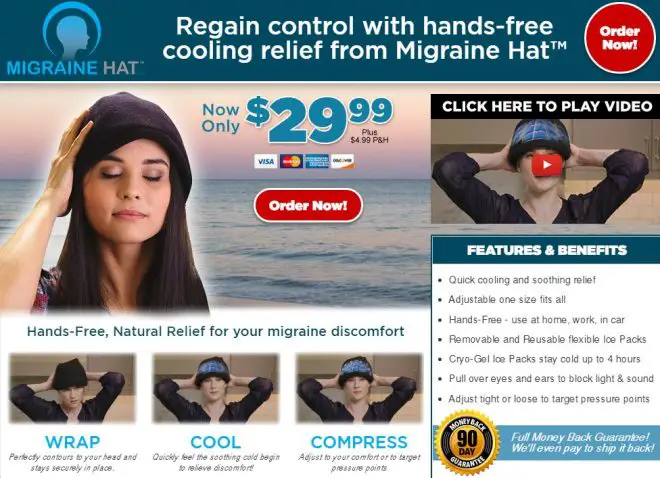 How Much Does Migraine Hat Cost?
There are two purchase options for Migraine Hat. The basic kit costs $29.99 + $4.99 shipping. It includes 1 hat, 1 storage bag, and 2 ice packs.
The deluxe kit includes everything from the basic kit, plus a cooler bag to keep the product cool, along with an extra ice pack. That kit runs $59.99, with free shipping.
Does Migraine Hat Work? Our Review
Migraine Hat is a rather simple idea: a cap which holds gel packs which are designed to reside on your head, hands-free, in order to relieve migraine discomfort.
While the idea and the design seem simple enough, there are enough nuances which make this product worth considering. The "gel pack" is not actually a single pack, but a series of 32 small self-contained cubes which allow you to properly fit the item on your head.
Sponsored Links
In general, our researchers feel that the majority of consumers who use Migraine Hat will be pleased with the results, and it will probably garner around a 4-star rating once feedback begins to show up online. The cool compression is a nice relief for migraine sufferers. The only "con" we can find is that the gel packs may not stay frozen as long as your migraine lasts. Having a second pack may eliminate that problem.
Migraine Hat is not the only game in town. There are a surprising number of migraine hats for sale which sport a similar design to Migraine Hat. Most, save for the lowest end offerings in the category, are relatively high-rated. Consumers who suffer migraines generally report feeling relief with these types of products.
Migraine Hat is competitively priced, as you'll find the price range of similar products to be $30-$60
Bottom Line
Migraine Hat is a hands-free gel pack cap which you wear on your head to relieve migraine discomfort. Our researchers have had positive results with these types of products, and this particular item is competitively priced.
Your Migraine Hat Reviews
Have you used Migraine Hat? Give us your opinion in the comments below.