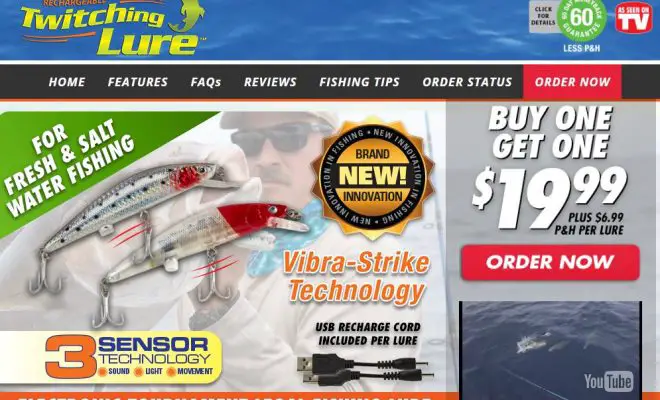 The Twitching Lure is an As Seen on TV fishing lure which twitches, buzzes, and flashes. Read our Twitching Lure review plus additional info.
Sponsored links

What is Twitching Lure?
The Twitching Lure, also referred to as the Rechargeable Twitching Lure, is said to be the "only lure you'll ever need." This electronic lure supposedly mimics the actions of a wounded bait fish.
You can find it on the official website, twitchinglure.com. That domain was first registered in September 2015.
Advertising
The television ad below has been airing as of this May 2016 writing. It is also embedded on the official product website.
Often seen in late-night television spots, the commercial above makes use of terms such as "genetic secret to catching fish" and "Vibrastrike technology." We are told that it is effective for every species of fish in salt or fresh water.
Some versions of the advertising make the bold – bordering on ridiculous – claim that "It's guaranteed a catch on every cast or your money back."
Cost
Twitching Lure costs $19.99 + $6.99 P&H per lure. Expect to pay $33.97 for two lures and charging cords, or $26.98 for one lure and charging cord.
Shipping takes about 7-10 days, and shipping costs are not refundable.
Does it Work?
With such bold claims as a guaranteed catch with every cast, one would assume that the Twitching Lure must be the Holy Grail of fishing lures. The good news is that it does do some of the things it is advertised to do. It lights up, twitches, and buzzes, just as the advertising suggests.
The bad news is that fish don't seem very impressed by it. In fact, we've found that fish in calm water seem to be scared off by the lure more than attracted to it. And the size is somewhat surprising; the larger of the two lures is absolutely huge, bordering on a decorative ornament rather than a practical, working lure. A lure of that size is not optimal for fishing in ponds or streams, despite their claims that it works with any type of fish.
Sponsored Links
There is no power switch, as the lure simply activates when it its the water. It will buzz, twitch, and light up. Using jerk and crank methods are the most effective ways to use the lure. After casting, the lure floats, but will dive while being retrieved. It emits a rather loud buzzing sound, which we feel scared off more fish than it attracted.
You may want to peruse the comments for this product on Amazon, where it has a rather underwhelming 2-star rating.
Customers who complain about the exorbitant shipping costs should realize that this is how the company makes money: even if everyone returns the product, they still bring in $7-$14 in shipping charges per order. It would appear based on consumer reports that the return rate is high, as complaints run the gamut from the size to technical problems (electronics not working).
A number of readers have reported catching no fish at all with this lure, sometimes after spending hours on the water. We have heard other complaints that the charge didn't last long or that it stopped working after a short time, although our tests did not reveal such problems.
Salt Strong put the lure to the test and concluded that windy weather and murky, shallow water are the optimal conditions to effectively using the Twitching Lure, as it is less likely to scare off fish under those conditions.
Screen Shot
Below is a screen shot of the Twitching Lure website taken in May 2016.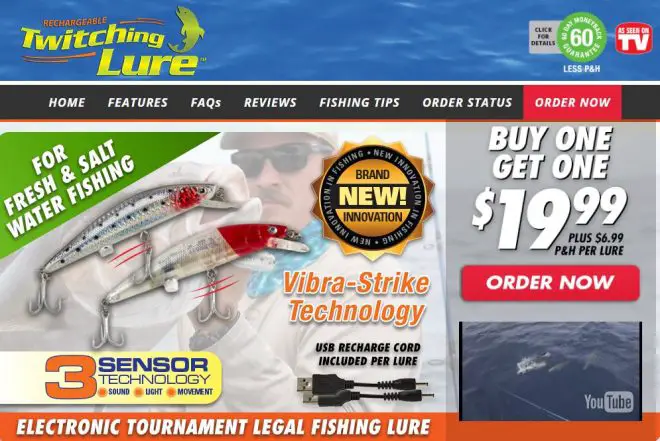 Bottom Line
The Rechargeable Twitching Lure looks good on paper, but the reality of the product is much different. This gimmicky lure is too big to be effective to catch "any type of fish" Further, the product is rife with consumer complaints that cannot be ignored.
If you are set on trying it, you may want to see if you can find it locally in order to avoid excessive shipping costs.
Your Turn
Have you used the Twitching Lure? What did you think of it? Share your experience with us in the comments below.