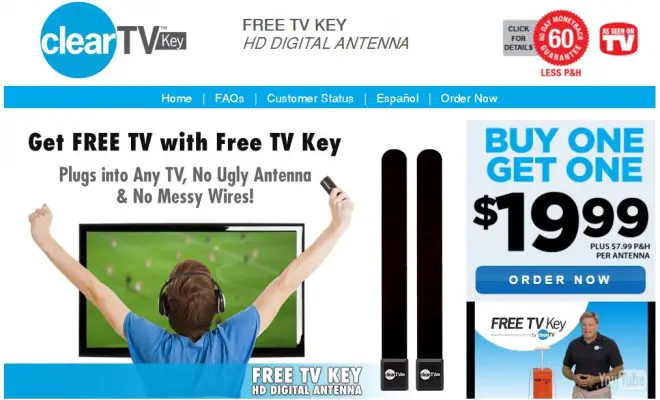 Free TV Key is an As Seen on TV television antenna which is advertised as a way to receive free broadcast TV channels.
Sponsored links

What is Free TV Key?
Free TV Key – also referred to on the website as Clear TV Key – is merely a television antenna which plug into the back of a TV. It is advertised by the makers of Clear TV, which is a popular As Seen on TV antenna that began advertising back in 2013.
There two two domains currently being used to advertise the product: freetvkey.com and cleartvkey.com, both registered in August 2015. Freetvkey.com currently forwards to cleartvkey.com.
Advertising
The television ad below has been airing as of this writing – note that it still advertises the freetvkey.com domain. It also features the same pitchman as seen in the original 2013 Clear TV spots.
As with Clear TV, the advertising asks if you're tired of paying expensive cable and satellite bills, then you may want to invest in a Free TV Key to reduce your reliance on those services. "You don't need expensive cable or satellite anymore. All you need is the Free TV Key from Clear TV," the ad states.
Cost
Free TV Key costs $19.99 plus $7.99 P&H per antenna. This comes to $27.98 if you only purchase one unit.
As of this writing, Free TV Key is not in stores or on Amazon, although it should be expected to arrive on shelves (brick and mortar, or virtual) in early 2016.
Competing Products
There are a number of products which perform the same function as Free TV Key. First, you can find its parent product, Clear TV, at retailers such as Bed Bath and Beyond or KMart for about $20. Another antenna which is currently advertising is HD Free TV. Finally, any standard television antenna will also function the same as Free TV Key.
Does it Work?
Regarding the claims that Free TV Key picks up broadcast channels, the advertising is completely correct. Because Free TV Key is essentially a standard television antenna, there is not much to it other than receiving television signals in your area.
Sponsored Links
Perhaps the most obvious caveat, however, is that Free TV Key only picks up over-the-air broadcasts, which means you are limited to whatever channels are available in your area. This typically amounts to a small handful of network and public broadcasting affiliates.
You will not receive popular cable channels such as CNN, FoxNews, ESPN, E!, or any other channel which is cable-only.
There are, however, several reasons why you would want to keep a working television antenna on hand. First, the picture of your local broadcast channels is likely to be superior to cable because the signal is not compressed. Sporting events, for example, may look better through Free TV Key. Another reason to have such a product is when the cable or satellite provider has an outage. Finally, you may want to put a Free TV Key on televisions in your home which are not connected to your cable or satellite service.
Perhaps one advantage of Free TV Key over other television antennas is in its design, which is hidden discreetly behind the television set. It plugs into the back of the TV, as opposed to connecting with a wire. While this design may be aesthetically superior, placing a television antenna outside or near a window is optimal, so there may be instances where the antenna is not in an ideal location to receive a TV signal.
Screen Shot
Below is a screen shot of the Free TV Key website from December 2015.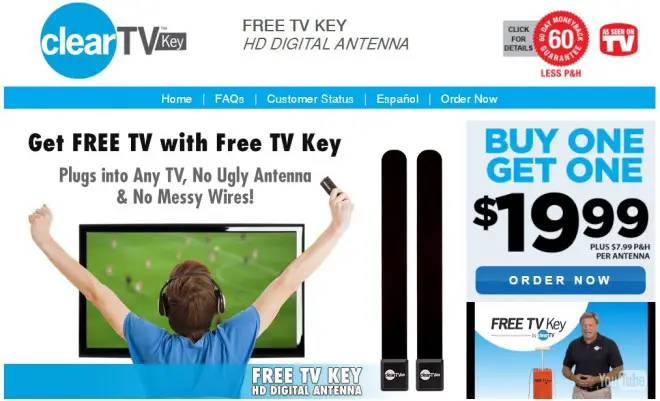 Bottom Line
Free TV Key is merely a standard television antenna in function, although it does boast a sleek, discreet design. You won't receive cable-only channels, although broadcast signals in your area are likely to be superior to that of cable. There are inexpensive options locally that can perform the same function.
Your Turn
Have you used Free TV Key? What did you think of it? Share your experience with us in the comments below.