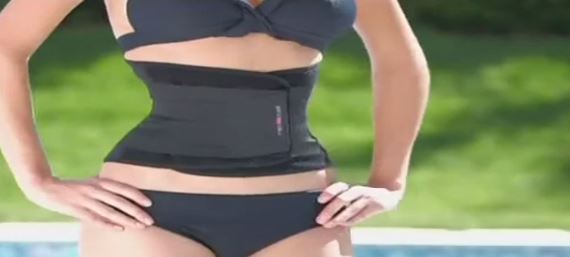 Miss Belt is an As Seen on TV waist trainer advertised as a way to slim the waist in seconds. Read our Miss Belt reviews.
Sponsored links

About Miss Belt
Miss Belt is one of several waist trainers to hit the airwaves in 2015. It was preceded in advertising popularity by Genie Hour Glass, which has largely disappeared from the airwaves. The official product website is missbelt.com, which was registered back in 2009, although it appears that the domain was parked for several years before being used. The domain buymissbelt.com has also been used in advertisements.
Below is a screenshot of the Miss Belt website, taken in August 2015.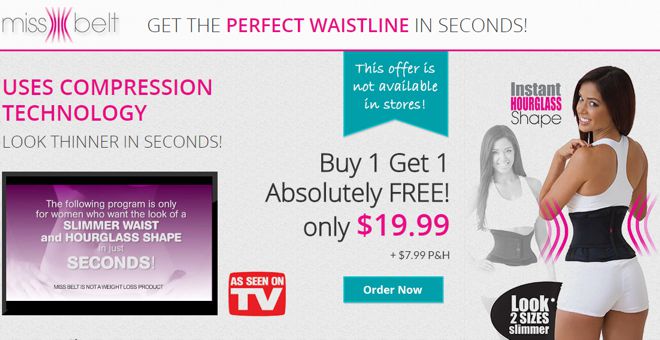 How Much does Miss Belt Cost?
When you order Miss Belt from the official website, you'll get a black Miss Belt for $19.99 + $7.99 shipping for a total cost of $27.98. They also include a nude Miss Belt for no extra charge.
There is a 30-day money back guarantee, which does not include shipping costs.
We have seen Miss Belt for sale in some stores (such as Fry's here in Las Vegas) for about $20.
Miss Belt Television Commercial
This TV commercial below has aired heavily in the first half of 2015.
Transcript of the commercial above:
The following program is for women who want a slimmer waist, and hourglass shape in just 2 seconds.

How do beauty queens, celebrities, and top models get that tiny waist and slim figures? Do you want to know their secret?

Miss Belt, your ideal figure in just 2 steps. Step 1 compresses and supports. Step 2 slims your waist instantly. The secret is in its exclusive Sbeltex technology that firmly tightens around your waist, abdomen, and back for an instant hourglass shape.

"Miss Belt tightens my skin and it gave me back my waist."

"I've been wearing it the last three months and I can't tell you how good it's been for me."

Tucks your belly, slims your waist, supports your back, tones and firms your skin, shapes your figure. In just 2 seconds you can have a slimmer waist.

"I've always been a size large. Now I'm a medium and pretty soon I'll be a size small."

Other products compress your midsection but they are not adjustable so you feel stuck and uncomfortable but Miss Belt is instantly adjustable so you can loosen it or tighten it on the go, while at home, walking, working, or at the gym.

Want to bounce back from your baby body instantly? Try Miss Belt.

Wear it over or under your clothes. No matter what you do, do it with Miss Belt.

"I use my Miss Belt even to go to sleep. The more I use it, the better the results."

You deserve to feel sexy, secure and confident. Everyone will notice, but no one will know what Miss Belt is doing for you.

Miss Belt comes in stylish black or seamless nude, but you don't have to buy both. Call now and order your Miss Belt in black and we will include the nude.

If you want a slimmer waist in just 2 seconds, order Miss Belt today and get the black and nude Miss Belt for just $19.99, but you have to order now.
Miss Belt Reviews
After Genie Hour Glass blanketed the airwaves in early 2015, Miss Belt followed shortly thereafter, and appears as of this writing to be the most highly-advertised waist trainer on television. There have been a few other waist trainers which have also been advertised, but none have toppled Miss Belt from the top spot as of August 2015.
Sponsored Links
Miss Belt advertises a "2-step process" in which the product is supposed to work. The first step is compression and support, in which it acts like a girdle by squeezing your midsection. The second step is instant waist slimming. As with most waist trainers, it can be worn over or under clothing.
Miss Belt advertises Sbeltex technology that "firmly tightens around your waist, abdomen, and back for an instant hourglass shape."
Waist training, however, is more than just compression. It is said to reshape the midsection over time, to provide a more permanent alteration. Although the advertising for Miss Belt doesn't highlight this aspect of waist training, it could be ascertained from certain statements. "I've always been a size large," one testimonial states, "Now I'm a medium, and pretty soon I'll be a size small."
Health care professionals largely dissuade the use of waist trainers long term because of potential problems it can cause to organs by constant and unnatural pressure.
We can certainly attest to the fact that Miss Belt works as a girdle, compressing the midsection to create an hourglass shape. Depending on your anatomy, however, it could end up creating a muffin top above the belt itself. We did not always find this to be the case, but it did come up during our tests as a potential problem.
We also had women who tried the product and were quickly satisfied with the results, so it appears to be quite subjective, based heavily on body type.
Miss Belt Pros & Cons
Pros:
Competitively priced
Available in stores
Works to the satisfaction of some consumers
Cons:
May give an unnatural slimming to waist
Can push fat up into a muffin top
Long-term waist training is frowned upon by medical professionals
Because Miss Belt is now in stores, you may want to consider picking it up locally. This will alleviate shipping costs and allow you to evaluate it in person before making your final purchase.
Keep in mind that Miss Belt is not the only waist trainer on the market, and you may also want to consider competing products as you shop.
Google Trends History
The chart below shows the rise in search popularity for Miss Belt throughout 2015. As you can see, it steadily rose in interest until mid-summer.
Bottom Line
Miss Belt is a competent waist trainer, although its effectiveness and aesthetic value will vary greatly among customers of different body types. Because it is now available in stores, we suggest evaluating it in person before making your final decision.
Your Miss Belt Reviews
Have you tried Miss Belt? Give us your review in the comments below.