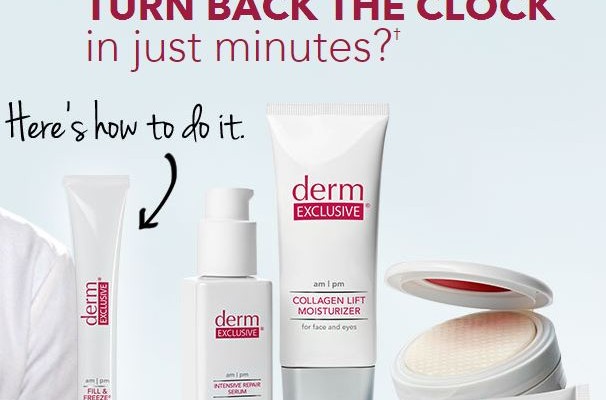 Derm Exclusive is a product advertised on television as a way to rejuvenate your skin to a more youthful state. Read our Derm Exclusive reviews from editors and readers.
Sponsored links

About Derm Exclusive
Derm Exclusive can be seen on paid programming advertisements featuring Dr. Andrew Ordon, a board-certified plastic surgeon and host of television's The Doctors. Dr. Ordon's official website, ordonchopra.com, does not mention Derm Exclusive.
The paid programming segment which had been airing weekend mornings, primarily promotes the Fill & Freeze Wrinkle Treatment with stunning before and after photos. The infomercial was hosted by Deborah Norville.
The Derm Exclusive system is advertised as a product which is "as good as—or even better than—the top in-office cosmetic procedures." The official website is at beachbody.com.
How much does Derm Exclusive cost?
The Derm Exclusive "Introductory Collection" which is a 4-piece, 30-day supply costs $39.95 plus $6.95 shipping for a total of $46.90. The kit includes 15 Micro Peel Resurfacing Pads, 1 fl. oz Intensive Repair Serum, 1 fl. oz Collagen Lift, and .04 fl. oz Fill & Freeze Wrinkle Treatment.
Be forewarned that when you order, you are automatically enrolled in their auto-ship program. This means you will automatically be sent a three-month supply, at a cost of $39.95 per month, plus $9.95 per shipment. This equates to $129.80 every three months. You must call and speak to a representative to cancel this auto-shipment. The fine print reads:
I understand that after 30 days, I will receive a new 90-day supply of Derm Exclusive every 3 months, billed in 3 payments of $39.95, plus $9.95 s&h per shipment, billed to the credit card I provide today. I can cancel or customize my shipment at any time.
Derm Exclusive Reviews
Anti-aging is big business, and Derm Exclusive comes with some big promises. The first thing we noticed is that the products are all very small, with the Fill & Freeze being absolutely minuscule.
Sponsored Links
Our Derm Exclusive testers expressed a range of responses from neutral to satisfied. It gained positive reviews as a moisturizer and general skin conditioning. The Fill & Freeze pen, which is perhaps the most-touted product in the kit, only lasted about a week – not 30 days as expected. It was difficult to ascertain its effectiveness due to its extremely small size.
Some testers reported a slight lessening of dark spots and under-eye circles, and the mild scent was not problematic for any of our testers. In the end, Derm Exclusive did not fare badly, but it also didn't fare much better than many products found in department stores and beauty shops. Results were not as dramatic as the infomercial displayed.
Google Trends History
The Google Trends graph below shows search interest in Derm Exclusive over time. Peak interest occurred in February 2013, while another surge occurred in May 2014. A smaller peak occurred in September 2015.

Bottom Line
Derm Exclusive does offers some anti-aging benefits, but the ordering and auto-ship programs leave much to be desired. Similar products by Boots No7 or Clarins, for example, may be better choices to purchase in person, which allows you to avoid the billing and auto-ship concerns mentioned above. There are a number of anti-aging products to be found, which you may want to evaluate before making a decision.
Your Derm Exclusive Reviews
Have you used Derm Exclusive? Let us hear from you in the comments below.
Updated November 21, 2015
Originally published February 2014