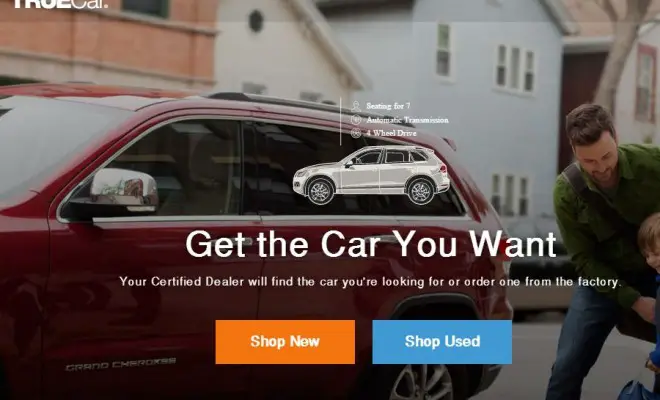 Truecar.com supplies users with free estimates of vehicle prices from local auto dealerships. Refer to our TrueCar reviews from editors and readers.
Sponsored links

About Truecar.com
Founded in 2005 by entrepreneur Scott Painter, TrueCar.com is a free online service that provides local price statistics to users who are interested in buying new and used vehicles. It is advertised as an efficient method for attaining a fair price estimate while eliminating the need to barter with car salesmen.
According to a March 2013 article from CNBC, users visit TrueCar.com and input the make and model of the car they would like to purchase. The website then displays the manufacturer's suggested retail price (MSRP), a factory invoice price, average local selling price of the vehicle, a TrueCar estimate, and the expected saving on the MSRP. Next a number of local certified auto dealers promptly contact the customer with price estimates on the particular vehicle, and a "guaranteed savings" coupon can be printed out a which acts as confirmation of the price that will be paid to the dealer.
How it Works
When visiting the TrueCar website or mobile app, you select whether or not you are shopping for a new or used vehicle, then the make, and enter your zip code.
You'll then see a screen showing cars for sale in your area, with a list of options which can be manipulated. Options include body style, color, price range, year, model, miles, etc.
When you find a vehicle you like, you fill out a short form to include your name, address, and phone number, and the dealer will contact you.
Website
The domain truecar.com was first registered back in 1999. Below are two recent screenshots.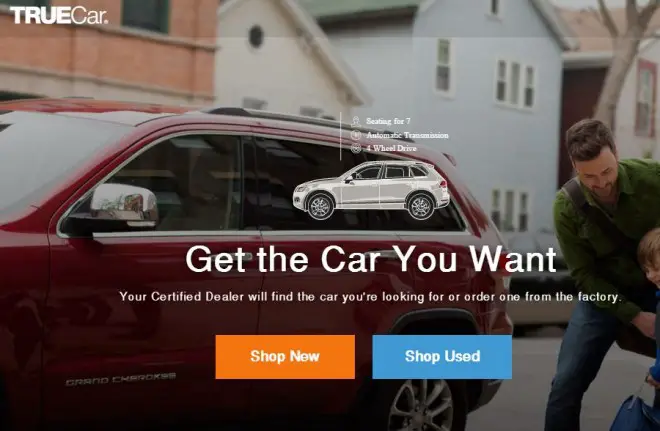 TrueCar.com screenshot in January 2016
The above-mentioned CNBC article reports that TrueCar charges dealers a flat transaction fee of $299 when a new car is sold and $399 when a used car is sold. It is also stated that TrueCar is involved in 1.4% of car sales in the United States, and that 26% of car dealerships in the United States are certified with TrueCar.
As of this January 2016 revision, TrueCar's business continues to grow. J.D. Power listed TrueCar as the #1 third-party automotive source in its 2015 Automotive Mobile Site Study.
A May 2014 Reuters article reports that TrueCar's major competitors are AutoTrader.com, eBay Motors, Edmunds.com, KBB.com, Autobytel.com and Cars.com.
TrueCar Mobile App
On January 14th, 2015, CEO Scott Painter announced the TrueCar mobile app which profiles potential customers and aids automakers in addressing their needs. Along with the announcement of the mobile app, it was being reported that as of early 2015 TrueCar was associated with 4% of vehicles sales within the United States, up from 1.4% as was reported in early 2013. The app is available for Apple and Android devices.
Truecar.com TV Commerical
The TrueCar commercial below was airing when this article was written in July of 2014.

Transcript of the television commercial above:
You're here to buy a car: infinite options, endless fine print, and so many opportunities to make a wrong move. What would help is simply being able to recognize a fair price. Doesn't seem that complicated, right? To see what others are paying just to know you're getting a fair deal? That's never really been possible, but along comes a radically new way to buy a car called TrueCar, and now it is.

TrueCar has pricing data on ever make and model, so all you have to do is search for the car you want. There it is. Now you're an expert in less than a minute. You see the average price other buyers are paying in your area, and the TrueCar price estimate which tells you what you can expect to pay for the car you want. It takes the guesswork and awkwardness out of buying a car. With TrueCar you see what others have paid, so you know if you're getting a fair price. Then you go to your TrueCar certified dealer to get guaranteed savings, and you don't have to negotiate a thing. Unless, of course, you want to.

TrueCar was founded on the idea that when the facts are out in the open, we all benefit. This is how car buying was always meant to be. This is TrueCar.
Truecar.com Reviews
In consulting reviews from around the internet, analysis of Truecar.com seems to be mixed, although more recent reviews tend to be more positive, as the website and mobile app continue to evolve. Some reviewers report that the website works as advertised, and they were able to buy vehicles for a price that seemed fair to them without having to be subjected to the notorious bartering tactics from some car salesmen that they desired to avoid. Others report that using TrueCar.com did not save them any time, and some car dealers still attempted to quibble on prices – despite customers possessing a printout from the TrueCar website that allegedly establishes the financial value of certain vehicles from particular dealers. Apparently there are no actual guarantees, and some users expressed concern regarding the lack of supervision in relation to transactions mediated through TrueCar.
A smaller subset of users claimed that were able to undercut offers from TrueCar by haggling with dealers on vehicle prices obtained through Kelley Blue Book.
Here are a few other common concerns which are expressed multiple times:
TrueCar.com reports the average local prices for precise models, colors, and options related to specific vehicles, yet dealers may not have those identical configurations in their inventory.
TrueCar.com apparently only facilitates offers from three local auto dealers. However, users appear to have the option to contact additional dealers themselves in a search for supplementary bids.
Dealers must be certified with TrueCar.com in order to appear on the website. Some users were curious exactly how dealers become certified, as TrueCar has not apparently made clear how this process works.
Several reviewers reported a large number of spam emails and even some undesirable marketing telephone calls after submitting their information to Truecar.com
Changes in Truecar Policies
One observation we initially made in July 2014 was that more positive user assessments of TrueCar.com seemed to be weighted to earlier dates in the company's history. Although the company was founded in 2005, it suffered well-publicized setbacks starting in late 2011 when dealers began to withdraw their businesses from TrueCar because it openly displayed the most reasonable local prices on vehicles. This sparked price wars between dealers which was ultimately damaging to dealership businesses. In late 2013, Reuters reported that the Federal Trade Commission was investigating claims that several car companies had convened with mutual agreements to avoid doing business with TrueCar.
Sponsored Links
According to a November 2012 article in Forbes, TrueCar lost $40 million dollars in early 2012 when a third of its certified dealers withdrew their business. Founder and CEO Scott Painter said the company "almost died" at that time. This prompted TrueCar to relaunch with a new business model which pacified auto dealers and car companies, to the chagrin of some customers. Subsequently, two major changes occurred in TrueCar's business practice which may have placated dealers:
TrueCar no longer provided exact data on prices that dealers paid for certain vehicles
TrueCar no longer sponsored the lowest local prices on a vehicle as a reference point for other dealers to surpass
Read more on the controversy regarding TrueCar's original business model in the New York Times and Los Angeles Times.
In mid-2015, Automotive News reported that recent lawsuits against TrueCar had negatively impacted the company's stock prices. One of those suits claimed that TrueCar was operating as a dealer and broker without proper licensing.
The company, however, did bounce back from its near collapse in 2012, building its network of dealers to over 10,500 by mid-2015, up from under 4000 in 2012.
Despite its unlikely comeback, some dealers have not yet embraced the company. Automotive News interviewed a manager of a dealership in Burbank, whose first action at the helm was to get rid of TrueCar.
"If I see TrueCar in there, that's the first call I'm making to cancel," he said. "TrueCar puts dealers in a position that really is unfair. There's a lot of information that they claim to be telling people about how dealers conduct their business that's just not true."
Google Trends History
The Google Trends graph below shows interest in TrueCar over time. Interest in the company has gradually increased and experienced a peak surge in late 2015 and early 2016.

Bottom Line
TrueCar.com is advertised as a free service that is said to abolish the bartering process when purchasing a car. This is supposedly done by facilitating estimates of vehicle prices through community dealers. User reviews are generally mixed with some being pleased with the prices they have been quoted as well as the elimination of bargaining. Others are not as pleased with the prices they are provided and claim that "guarantees" finalized through TrueCar were not honored by dealers. In 2012, Truecar launched a new business model after losing millions of dollars and a third of its certified dealers due to claims of illegal brokering. The majority of the positive reviews for Truecar seemed to come before its 2012 business model changes which appeased auto dealers.
The company has rebounded considerably by 2016, although some dealers still avoid the service.
Your Truecar.com Reviews
Have you used TrueCar? Give us your reviews in the comments below.
Updated January 6, 2016
Originally published July 2014