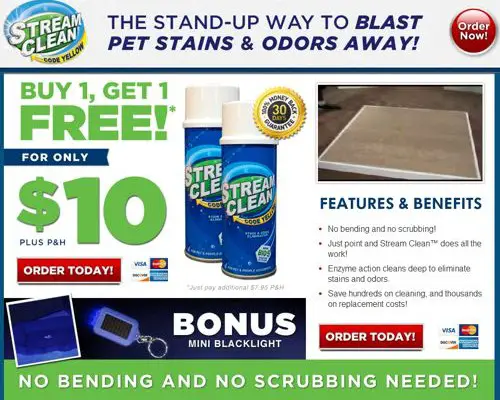 Stream Clean is advertised as a product which can easily remove pet stains and odors without bending or scrubbing. Read our Stream Clean reviews from editors and readers, along with additional product information.
Sponsored links


About Stream Clean

Stream Clean is a cleaner that is designed to remove pet stains and more. The official website, buystreamclean.com, was registered on March 1, 2012. It was been seen in television advertisements in 2014 featuring the overly-animated pitch-man Marc Gill.

Stream Clean claims to clean urine, feces, vomit, blood, grass, dirt, grease, food, wine, coffee, and ink. Because of its ability to remove stains, Stream Clean claims it can save you thousands on replacement costs.
Contact Info
You can contact Stream Clean in the following ways
Mail: Stream Clean, Box 2020, North Wales PA 19454
Phone: 800-340-3418 (Mon-Fri 9am to 4pm EST)
Email: [email protected]
Below is a screen capture of the Stream Clean website from January 2014. It remains unchanged as of January 2016:
What does Stream Clean claim to do?
The commercial states that you can "blast" pet stains and odors with no bending and no scrubbing. "Just point and stream and your carpet gets clean." The secret is said to be Stream Clean's "bio-enzymatic formula" which destroys odors and stains. The removal of odors and stains will prevent your pet from re-marking or re-spraying areas. The commercial also shows the product used as a deodorant, as we see it sprayed on a cat's litter box. Mr. Gill is seen spraying it on his hands as proof that it is safe for humans without sticky residue.
Stream Clean is also said to work on old "set in" stains. A single can is said to be enough "to clean a house full of stains and odors."
Television Commercial
Here is a TV ad for Stream Clean which ran throughout 2013 and 2014.

How much does Stream Clean cost?
Stream Clean costs $10 plus $7.95 processing and handling. You can also get a second can for another $7.95 P&H, for a total of $25.90. When you order online, you cannot opt out of this second "free" can, which has proven confusing to some consumers. The order page asks "how many sets of two would you like?" Some customers have selected "2" thinking this is how they would get their second "free" can, when in fact they were actually ordering two sets of 2, for a total of $51.80 ($25.90 + $25.90).
This confusion could be avoided if the order page would first give you an order review/summary, which it does not.
Stream Clean has been available in stores such as Target and Kmart for about $10 since about 2014.
You can also find Stream Clean on Amazon for about $18. Reviews are mostly positive, with about a 4.4 star rating. The packaging for that product is slightly different than the one shown on the official website.
Stream Clean Reviews
We had several testers use Stream Clean back in 2014 and report back to us with their results.
While Stream Clean does seem to work on some types of stains and carpet, its effectiveness is affected by several variables. There is also a "blotting" technique which can improve the product's ability to pick up stains.
Sponsored Links
Some of our testers reported that stains and odors were not removed at all, while others reported that it worked on some types of stains but not others.  There was some disagreement whether the technique by those applying Stream Clean contributed to its reduced effectiveness. It must be applied liberally, allowed to soak before being wiped away.
Despite the commercial's claim of "no scrubbing" our testers found that scrubbing was the best way for Stream Clean to have any chance against tough stains.  Those who applied Stream Clean, let it soak, and then scrubbed with a bristle brush had the best results.
Bottom Line
Our testers gave Stream Clean mixed reviews, although the consensus leans toward a negative opinion. How well the product works depends on size and type of stain, carpet type, and also the technique used in applying the product. We recommend picking up Stream Clean locally to avoid shipping charges and to facilitate the returns process, if necessary.
Your Stream Clean Reviews
Have you used Stream Clean? Give us your Stream Clean review in the comments below.