FabriClear is advertised as a non-toxic product designed to kill bed bugs, dust mites, and more. Read our FabriClear reviews from editors and readers.
Sponsored links

About FabriClear
FabriClear is marketed as a non-toxic, pesticide-free solution designed to kill bed bugs, dust mites, and other pests. The official website is fabriclear.com, which was created on June 14, 2007.
Below is a screenshot of the official FabriClear website which was taken in August of 2013.
As of this August 2015 revision, the appearance of the website (shown below) has changed slightly.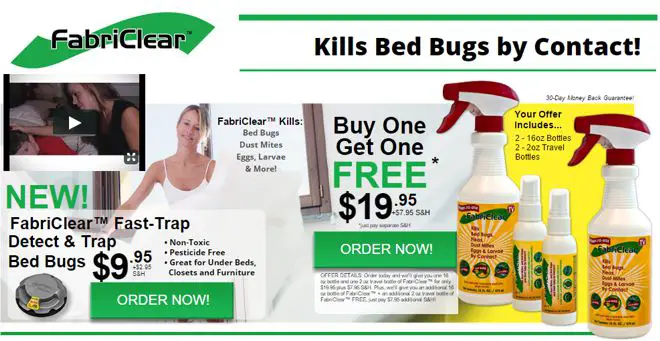 How much does FabriClear cost?
FabriClear can be purchased from the product website, and is also available in stores such as Walmart or Bed, Bath, & Beyond for about $20. As shown in the graphic below, Fabriclear has also been spotted on clearance shelves as early as 2013.
When ordering from the website, a 16 oz bottle (plus a 2 oz "travel" bottle) of FabriClear costs $19.95 plus $7.95 shipping & handling (S&H) for a total cost of $27.90. You can add a second order of FabriClear (including two extra travel bottles) for another $7.95 S&H, for a grand total of $35.85.
There is a 30-day money back guarantee (minus S&H), and delivery is estimated to take 4 to 6 weeks. We have heard from a few users who have complained about slow shipping when ordering this product online.
Because the product is easily found locally, purchasing in stores will avoid any shipping hassles and costs.
It appears that the makers of FabriClear now offer a Fast-Trap Detect & Trap for bed bugs as well. The Fast-Trap costs $9.95 plus $2.95 S&H for a total of $12.90.
FabriClear Television Commercial 
This Fabriclear commercial was airing in 2013.
Transcript of television commercial above:
"Sleep tight, don't let the bedbugs bite."

Not so fast, outbreaks of bedbugs have been found in homes, office buildings, and hospitals. They can even live in new mattresses.

Well, now there's a solution. Introducing FabriClear, the safe non-toxic spray that kills bedbugs by contact.

This bed looks clean, but hiding between the sheets are blood-sucking bedbugs. They bite at night. Yuck! But safe non-toxic FabriClear helps kill these disgusting pests, and FabriClear does even more. Dust mites can cause problems, and bedbugs feed on pets as well. FabriClear helps create a pest free home because it kills dust mites, bedbugs and bedbug eggs.

Unlike other products, FabriClear is derived from natural ingredients. It kills bedbugs and other pests with no harsh chemicals, so it protects your family. It's a bio-based, biodegradable program that leaves a clean, fresh scent, so it's safe around pets, safe for your fabric, and safe for you. And the application is simple, you just spray on to kill bedbugs on contact all across your entire room.

Professional cleaning can cost hundreds or even thousands of dollar, and may use harmful chemicals. And remember, soaps, bleach, and steam don't kill them.

But FabriClear is safe on all fabrics: furniture, pillows, carpets, duvet covers, and more… Use regularly, it helps kill bedbugs and dust mites, and keeps your loved ones safe.

This special TV offer includes one 16 oz bottle of FabriClear, and our convenient 2 oz travel-size of FabriClear in a pump-spray bottle. Great for hotels and travel. For only $19.95. Supplies are limited, but call now, and we'll double the offer. That's two full-sized bottles of FabriClear and two travel bottles for only $19.95. Just pay separate processing and handling, and be sure to ask about our FabriClear Fast-Trap. The perfect early detection system. Now if someone brings bedbugs into your home, they'll go straight to the trap, and stop infestations before they happen. A perfect combination. Call now.

To order call 1-800-401-8964, that's 1-800-401-8964. Go to FabriClear.com. Order now.
Fabriclear Ingredients
These are the ingredients as listed on the FabriClear labeling:
Geraniol: 1.00%
Peppermint Oil: 0.02%
Soybean Oil: 0.02%
Citric Acid: 0.01%
Inert ingredients: 98.95% (Water, Polyglyceryl oleate, Glyceryl dicaprylate)
Total: 100.00%
Our FabriClear Review
Being based in Las Vegas provided us an ample opportunity to test out this product. In August 2013, we picked up a bottle of FabriClear at a local Bed, Bath, & Beyond and tested it at an old motel in downtown Las Vegas which was owned by a friend of ours. We sprayed FabriClear in the the most problematic areas and directly on a group of bed bugs on an old mattress. The most immediate issue we noted was that the advertised "fresh clean scent" was more like an unpleasant odor. Spraying FabriClear directly on bed bugs did nothing at all, and they simply scurried away – apparently unscathed.
Sponsored Links
In our test, FabriClear didn't work at all. Our friend ended up getting a professional heat-based treatment which appears to have eliminated the problem completely.
As it turns out, geraniol is known to be an effective mosquito repellent, but it is not known to kill bed bugs.
See this NY Daily News article, which also found similar products (with the same active ingredient) to be ineffective.
Google Trends History
The Google Trends graph below displays interest in FabriClear over time. Interest peaked in December of 2012, but seems to have largely declined since then.

Bottom Line
In our 2013 test, FabriClear was ineffective in killing bed bugs, even when sprayed directly on them. If you are adamant about trying it, pick it up locally to avoid slow, expensive, and non-refundable shipping.
Your FabriClear Reviews
Have you tried FabriClear? Tell us of your experience in the comments below.
Updated August 9, 2015
Originally published August 2013