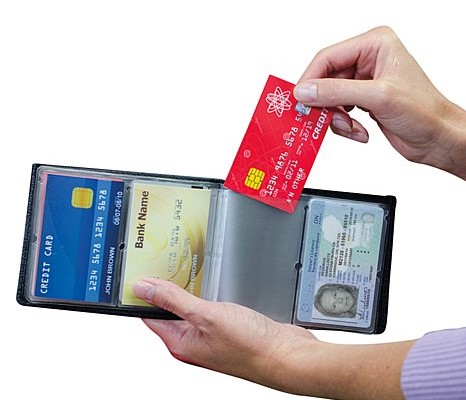 Wonder Wallet is an As Seen on TV wallet which can carry up to 24 cards in a thinner space than regular wallets.
Sponsored links

About Wonder Wallet
Wonder Wallet promises to relieve messy wallets – and even back pain – by allowing you to store up to 24 cards and other items in a more streamlined wallet than traditional offerings.
The official product website is getwonderwallet.com. The domain was first registered back in August 2014, but the product did not begin heavily advertising until mid-2015. The screenshot below shows the official website as of November 2015.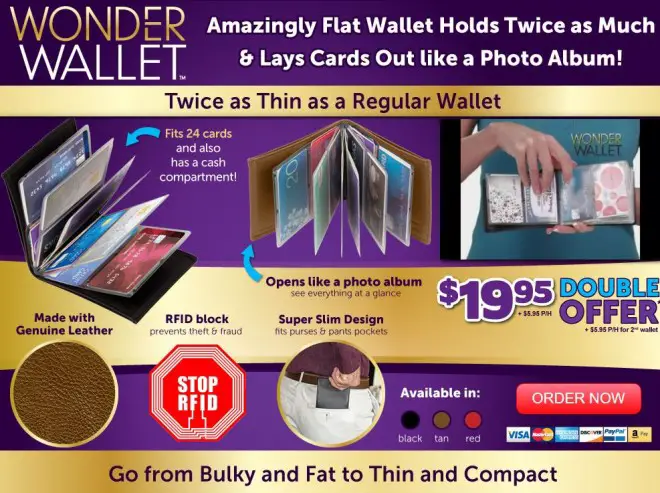 How Much Does Wonder Wallet Cost?
If you purchase from the official website, Wonder Wallet costs $19.95 + $5.95 shipping, and $5.95 for a second wallet.
You can find Wonder Wallet in stores, typically in the As Seen on TV section, for about $20 to $25.
Does Wonder Wallet Work? Our Review
Wonder Wallet offers the ability to store more items in your wallet, but in a way that does not create an uncomfortable bump on your backside. It essentially halves the thickness of a wallet by doubling the width. Some consumers may see this as a benefit, while others may see it as an undesirable trade-off.
Wonder Wallet is wider than a regular wallet and may not fit in all pants pockets the way you are normally accustomed. Stuffing it full of 24 cards may feel like you're carrying a small paperback book in your pocket, but it won't be as thick as a regular wallet. Women who keep a wallet in their purses will probably not mind the size and shape of Wonder Wallet.
Sponsored Links
For those who don't mind the size, Wonder Wallet it actually a pretty nifty product. You can easily store a large number of cards, and flip through them quite easily. It appears to be of average durability, and the addition of a zipper is also a plus. The color choices are black, tan, and red, which should accommodate the tastes of most consumers.
We'd suggest skipping the double offer online and seeing if your local Walmart (or other retailer) carries the product. This will avoid shipping delays and costs, and will give you a chance to evaluate the size in person.
Some consumers have said that laminated cards may not fit in the pockets as expected, or that they may not be easy to remove once inserted.
Wonder Wallet may be the widest wallet you've ever used, but if you carry a large number of items in your current wallet, it may provide some relief in your back pocket.
Bottom Line
If you are one who carries lots of cards with you, Wonder Wallet may be worth a look. It could be argued that the benefit Wonder Wallet offers in thickness reduction, it loses by creating a larger overall size. Not all consumers will want to carry a wallet of this size. It does, however, do what it advertises, which is carry lots of cards in a thinner space. If size isn't a concern, you may actually quite enjoy Wonder Wallet.
Your Wonder Wallet Reviews
Have you used Wonder Wallet? Give us your opinion in the comments below.
Updated January 8, 2016
Originally published November 2015