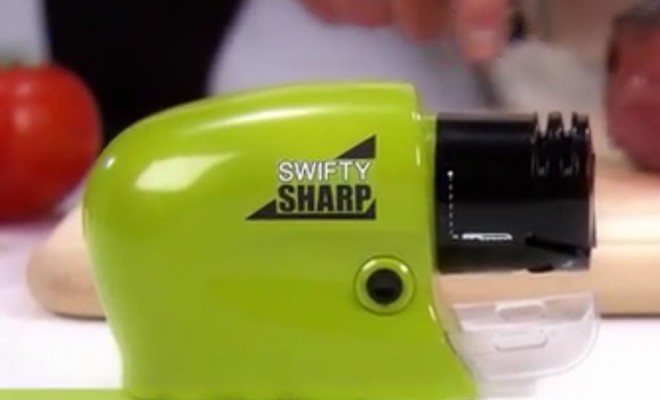 Swifty Sharp is a cordless blade sharpener that promises professional-grade sharpening at home. Read our Swifty Sharp reviews from editors and readers.
Sponsored links

About Swifty Sharp
This motorized blade sharpener has been advertised on television throughout much of 2015. It is said to work on any blade, and restore sharpness in seconds.
The official product website is swiftysharp.com, which was registered in February 2015. Below is a screen shot of the website as it appears in August 2015.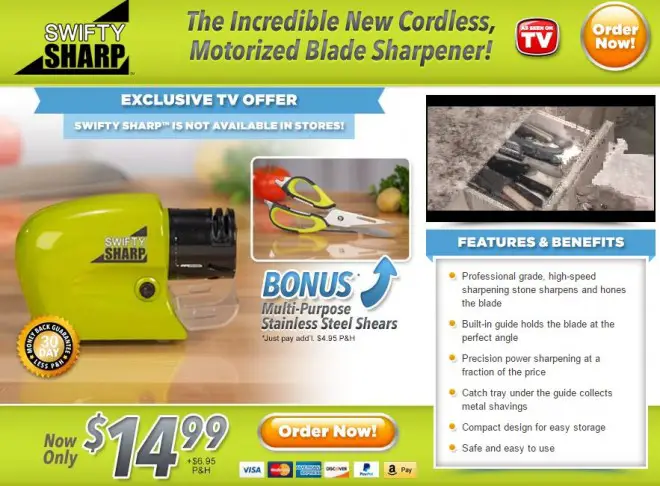 How Much Does Swifty Sharp Cost?
The current television offer for Swifty Sharp is $14.99 + $6.95 shipping for a total of $21.94. They also allow the option of including stainless steel shears for another $4.95 shipping, which would bring your cost to $26.89.
We have not yet seen Swifty Sharp in stores. If you've seen it in stores, drop us a comment below.
Does Swifty Sharp Work? Our Review
Knife sharpeners have been a mainstay among late night television infomercials for decades. With Swifty Sharp, we have a motorized knife sharpener that is said to work with any knife and includes a guide which holds blades at the "perfect angle."
Resembling an electric pencil sharpener, Swifty Sharp sports a plastic compact design that includes a catch tray to collect metal shavings.
Sponsored Links
Although it is touted as being cordless, this may not be a desirable feature, as it means you must keep it stocked with four AA batteries. As batteries lose power, the motor works less effectively. We would gladly sacrifice portability for a DC powered motor.
How well does Swifty Sharp work? As stated, the motor does not seem as powerful as one might expect, perhaps due to being battery operated. A fresh set of batteries is a must. An extended sharpening session in our tests led to the unit getting quite hot, which is gave us a somewhat uncomfortable impression.
Swifty Sharp seemed to work best when knives were gently placed in the unit, as any pressure seemed to work against the motor. Our conclusion is somewhat mixed, as we did achieve successful sharpening of some knives, but not before the unit heated up and weakened with extended use.
Online reviews for Swifty Sharp run the gamut, with a no clear consensus. We've seen ratings range from 1 to 3.5 stars. It may be worth a try once it becomes available in stores.
Bottom Line
Swifty Sharp is an As Seen on TV blade sharpener. Being battery operated tends to be the biggest obstacle in the product's success. We were able to get it to work moderately well, but it requires little pressure and doesn't seem to be geared toward extended use.
Your Swifty Sharp Reviews
Have you used Swifty Sharp? Tell us what you think in the comments below.