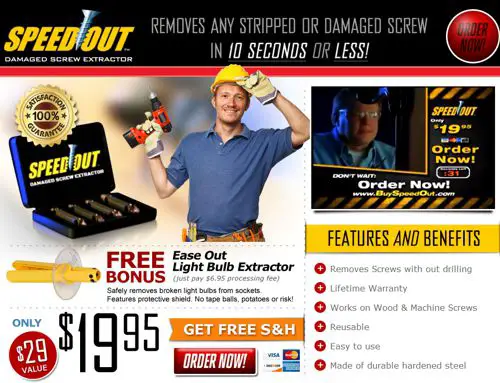 SpeedOut is a product which is said to easily remove stripped, damaged, or broken screws or bolts. Read our SpeedOut review along with additional product information.
Sponsored links

About SpeedOut
SpeedOut is a 4-piece screw/bolt extraction kit. It works by drilling out the stripped and damaged area with the cutting end, then flipping it over and using the extraction end to remove the damaged or stripped screw. It has been advertised on television throughout 2014, with continued advertising through 2015.
What they claim
Remove any stripped or broken screw or bolt  in 10 seconds or less
Works with any drill
30-day money back guarantee, less shipping/processing
10-15 days for standard shipping
Lifetime warranty
Made of hardened steel
Philips, flat head, hex, and painted over types
How much does SpeedOut cost?
SpeedOut costs $19.95 with free shipping. You can buy two for $31.90, which would make them $15.95 each. A "free" bonus Easy Out Light Bulb Extractor can be added for a $6.95 "processing" fee. Each order includes a $1 "Web Processing Fee."
SpeedOut is available in stores for about $15.
Official Website
The official website is buyspeedout.com, which was registered on May 9, 2013. Below is a screenshot of the SpeedOut website, taken in December 2013. The website looks virtually identical as of November 2015.
Television commercial
Below is a TV commercial for SpeedOut:
Our SpeedOut Review
Extraction sets are not a new concept, but the idea may be new to occasional DIY types. The frustration of removing a stripped or damaged screw can turn an otherwise simple repair into a nightmare. Extraction sets such as SpeedOut work by drilling out the stripped area and using an extractor to remove the damaged screw or bolt.
Sponsored Links
In our tests of SpeedOut, we screwed several types of screws into different surfaces and stripped the heads. We found that, while SpeedOut did not have a 100% success rate, it worked generally as advertised on most screw types. For a couple of the more difficult screws, we found that using a regular drill bit worked better than those included with SpeedOut for drilling out the stripped area of the head. We also found that during the extraction process, the drill worked better when run at a slower speed. If you need to extract screws made from harder metals, you may want to consider a higher-end extraction set.
One reviewer pointed out that you can't order replacements if one of the four extractors breaks. Thus, purchasing a new set would be the only alternative. This is yet another reason to make such a purchase locally.
A few readers have expressed dissatisfaction with the product's customer service, but this can be remedied by simply purchasing locally from a trusted retailer.
Other SpeedOut Reviews
As of November 2015, Readers at Home Depot have given SpeedOut a 3.2-star rating. Reviews range from "it didn't work" to "worked perfectly." At Amazon, SpeedOut boasts a 3.7-star rating, with a wide range of opinions on the product.
Alternatives to SpeedOut
There are other extractor sets available. A local hardware store will yield several alternatives, such as GraBit or Pittsburgh Forge sets for about $13, up to higher end industrial models such as a $200+ set by Irwin. Sears offers a very similar looking "Screw Out" set for about $15.
Beware of ordering online:
We have received several complaints regarding the online ordering process. After placing your order, you may receive a call from the company to confirm your order. During this call they may offer you $100 in gas coupons for $1. This will sign you up for a recurring charge of about $20 per month if you don't cancel. Other readers have told us that the shipping of SpeedOut can be quite slow. As stated earlier, purchasing locally will eliminate this potential problem, and facilitate the return process if necessary.
Google Trends History
The Google Trends graph below shows interest in Speedout over time. It appears that interest peaked in March of 2014. Although another peak occurred in November of 2014, interest seems to have largely declined since then.

Bottom Line
SpeedOut generally works as advertised, although it is not the only extractor set on the market. We recommend purchasing it locally, and consider some higher-end alternatives if your needs are extensive. SpeedOut may not be up to the task if your extraction job is very difficult.
Your SpeedOut Reviews
Have you used SpeedOut? Give us your review in the comments below.
Updated November 20, 2015
First published December 2013