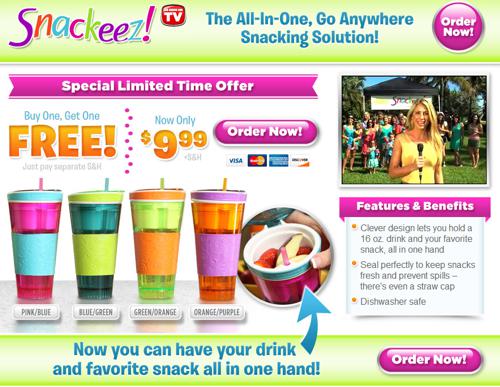 Snackeez is a drink cup which allows kids to hold a drink and snack in one hand. Read our Snackeez review from editors and readers.
Sponsored links

About Snackeez
The official product website is getsnackeez.com, which was registered on April 29, 2013.  Advertising for Snackeez began in mid-2013 and has been seen regularly ever since.
The product holds liquid in the bottom and a snack on top in a nested cup. This allows the holder to carry a drink and snack in one hand. Snackeez comes in 4 designs: pink/blue, blue/green, green/orange, and orange/purple. There is a 30 day money back guarantee, minus shipping.
How much does Snackeez Cost?
When purchasing online, the cost is $9.99 plus $5.99 shipping. You can get a second Snackeez for another $5.99.
The product is widely available in most major retailers for about $10.
Below is a screen shot of the website, captured in February 2014. As of November 2015, the website remains unchanged with the addition of a holiday-themed commercial and "Product of the Year" award seal.
Television Commercial
Here is a popular TV advertisement for Snackeez:
Transcript of television commercial:
We're here in sunny Ocean Park with the latest craze. It's snackeez!

Snackeez is the all-in-one go-anywhere snacking solution that's sweeping the nation. Now you can have your drink and your favorite snack all in one hand. Snackeez really is the ultimate snacking solution. Now you can have your favorite drink and the snacks you love all in one cup. Snack easy with Snackeez. It's Snackeez. Sealed lid keeps snacks fresh and clean. There's even a cap on the straw so spills are a thing of the past. Those chip bowl disasters, never again. Kids mess in the car, with Snackeez it's clean and easy. Perfectly sealed so no more mess. No dirt, no bugs, and no more sharing the chip bowl with grossy gross. It's breakfast on the go. Kids gaming can be a disaster. Snackeez controls the mess.

"They're cool."

"I love it."

"What a simple, perfect design."

"It's awesome. I think it's great. It's a party in a cup."

Dishwasher safe with a lifetime guarantee. Kids love it, guys love it, and moms love it because there's less mess. Holds a full 16 ounces and a whole bag of chips. Make it healthy with fruit and a protein shake. How about nuggets and fries and your drink all in one hand? It's taking the world by storm. Get yours right now at getsnackeez.com. Just $9.99 in any of these cool colors. But wait. Order right now and we'll include a second Snackeez free. Buy one Snackeez and get a second one free.

"Oh that is a perfect price."

"I'm getting four. Done."

"I want one."

Don't wait. Absolutely everyone loves Snackeez. Get yours today.
Our Snackeez Review
Although the product has a new feel to it, it isn't the first attempt to combine snacks and drinks into a one-handed product. Some brands of sippy cups for small children, for example, have done this for years. Nutella also has a one-handed "Snack & Drink" offered in some countries which has different compartments for Nutella, bread sticks, and tea.
Fans of Nickelodeon's "Drake and Josh" may also remember a similar product from the episode entitled "Helen's Surgery" in which "Cup O Stuff" was invented as a solution to carrying popcorn and drinks in a movie theater. That device worked remarkably like Snackeez, with soda on the bottom and popcorn on the top. That episode aired back in 2005, long before Snackeez existed.
We asked several testers to evaluate Snackeez in early 2014 and give us their opinions. We had adults and children try the product. Below are some observations by our testers regarding Snackeez drink cups:
The snack compartment is quite small, only taking up approximately the top one-third of the cup.
It is not entirely spill-proof, as some liquid can seep through the hole where the straw is inserted. It is, however, an acceptable feature as the amount which can seep out is minimal.
Temperature transfer can occur between the two sections, meaning a warm snack and cold drink will not stay the appropriate temperatures for long.
Although the commercial includes adults as potential customers, it isn't likely you'll find an adult who would use what is essentially a child's drink cup.
The best fit for this product are children between the ages of toddler and teen.
This website shows a rating of 3.1 out of 5 stars, with over 115 user ratings.
On Amazon, Snackeez boasts a 4-star rating as of November 2015 with over 270 customer reviews.
Sponsored Links
We forwarded a question from a commenter below about Snackeez to the company, and received the following response:
Thank you for your message, Snackeez is made in China and is BPA free. Thank you and have a great day!
Slow Shipping
A common complaint we have heard from our readers and others is that the shipping process is very slow, and back orders are commonly cited as the reason. Those customers placed on back order are told they must wait an additional 6 weeks to receive the product. Customer service is also unresponsive. Now that it is widely available in stores, this should no longer be a concern for most consumers.
Popularity
As you can see in the Google Trends chart below, Snackeez appears to have had its peak marketing push in April 2014. Since appearing in stores, it would appear that online interest in the product has waned, although several surges since then indicates extended life for the product's marketing campaign.

In August 2014, a follow-up product called Snackeez Can Toppers was test marketed. That product does not appear to have made it out of the testing phase. Snackeez Duo, a disposable version of the product, has also been introduced and found in stores.
Bottom Line
Snackeez is not for everyone, but it may have a place in the hands of children between about 4 and 11. The product has been relatively well received and is widely available in stores.
Your Snackeez Reviews
Have you used Snackeez? Let us hear from you in the comments below.
Updated November 30, 2015
Originally published February 2014