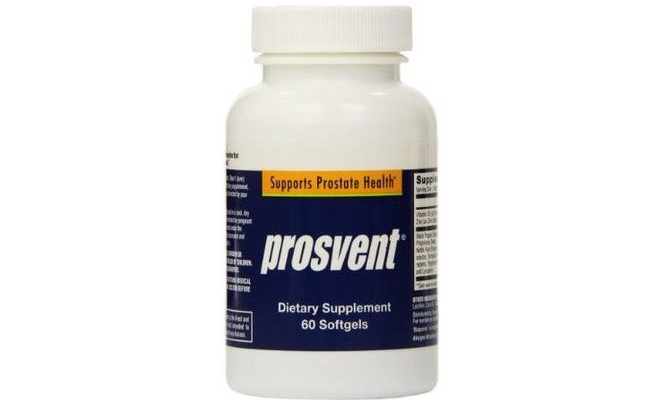 Prosvent is advertised as a natural solution which helps relieve the symptoms of enlarged prostate. Read our Prosvent reviews from editors and readers.
Sponsored links

About Prosvent
Prosvent is a natural (vitamin, herb, and mineral) solution to treat enlarged prostate, also known as benign prostatic hyperplasia, or BPH. The product's spokesman is Dr. Larry May, a Harvard Medical School graduate who has also been involved with Herbalife. The product website also states that he is the "creator of Prosvent."
The Infomercial
Unlike most infomercials, which are heavy on hype and light on details, the Prosvent infomercial actually does a relatively good job of explaining the basics of prostate problems. The chart and explanation offered by Dr. May are quite similar to my first urologist experience when I was diagnosed with BPH. I was also pleasantly surprised that the infomercial listed the ingredients of Prosvent.
How much does Prosvent cost?
As of August 2015, only a free trial of Prosvent is available on the product website. Each order also includes Dr. May's Complete Guide to Prostate Health and a bottle of Ultimax (aka Provigor).
The trial is two bottles of Prosvent for $9.95 shipping and handling. After 30 days, buyers are then entered into an auto-ship program which charges $39.95 per bottle plus $9.95 shipping and handling for 2 bottles of Prosvent every 60 days. Total = $99.80 every two months.
As of 2014, you could simply order Prosvent without the auto-ship, but that option has since been removed. Prosvent can be found on Amazon for about $50 as of this writing.
Sponsored Links
Alternatives to Prosvent
Although Prosvent contains a standard blend of prostate-related ingredients, there isn't anything new or breakthrough about its contents. There are many other similar prostate blends on the market which cost less, such as the GNC Prostate & Virility product I reviewed in November 2012, which is about $27 for 90 caplets. You can also shop around and buy the main ingredients individually for less. There is, for example, a product by Now Foods called Pygeum, Saw Palmetto, & Pumpkin Seed for $13 – for 120 pills. Zinc you can find easily as low as $5. In early 2013, I found a 100-count of Nettle for about $12 locally. If I were to just buy those three, I would have about a 4-month supply of over half of the ingredients of Prosvent for under $30.
Ingredients
The ingredients listed for Prosvent are:
Saw Palmetto Extract
Nettle Root Extract
Pygeum Africanum
Lycopene
Black Pepper Extract
Pumpkin Seed Oil
Vitamin D
Zinc
Even though the doctor on the infomercial claims to have never seen this combination before, the above ingredients are quite commonly found in many natural prostate formulas.
Pros
Ingredients. Prosvent contains many popular natural ingredients for treating BPH.
Convenience. Having many of the key prostate ingredients in one pill is easier than buying and taking them separately.  

 
Cons
Auto-Ship. Ordering from the website will automatically enroll you in their auto-ship program, which ships two bottles every 60 days at approximately $90 per shipment. Some reviews from users of Prosvent claim that they had difficulty canceling the auto-ship program.
Cost. At around $40 a bottle (plus shipping), Prosvent is quite expensive for the ingredients you get. As stated above, it is easier to find similar products for less or buy them individually.
Prosvent on Google Trends
The Google Trends chart below tracks search entries for "Prosvent" on Google going back to April 2006. Interest in the product appears to steadily increase and decline with the greatest surge of interest coming in January 2012.
Bottom Line
Based on the ingredients alone, it is likely that Prosvent may work for some people. Because of the cost and auto-ship program, however, you may be better served going to a local nutrition shop and comparing similar products or buying the ingredients individually. Everyone is different, and not all BPH sufferers will find relief with Prosvent, which makes the auto-ship even less desirable. If you really want to try it, I'd recommend picking it up minus the auto-ship to give it a try without obligation or hassles.
Your Prosvent Reviews
Have you used Prosvent or similar products? Tell me what you think in the comments below.
Updated August 7, 2015
Originally published January 2013