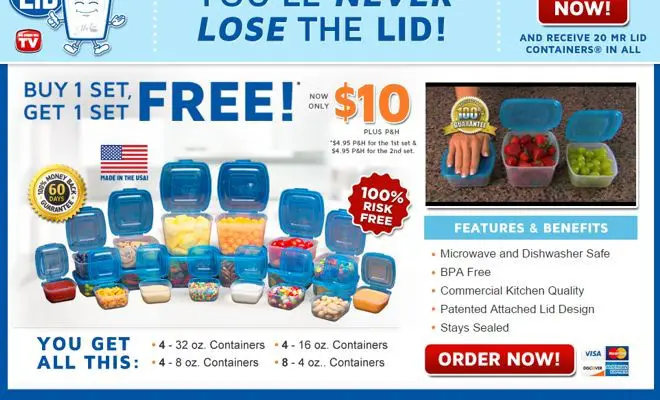 Mr. Lid is a storage container with an attached lid. Our Mr. Lid review includes an update after nearly two years of use.
Sponsored links

About Mr. Lid
Mr. Lid storage containers are a solution to mismatched or missing lids. The product has been advertising on television since mid-2012. The official website is mrlid.com, which was registered on August 10, 2011. There is also an official Facebook page, which was created on January 5, 2012.
How much does Mr. Lid cost?
Online: When purchasing from the official website, Mr. Lid costs $10 plus $4.95 shipping for a total of $14.95. You can get a second Mr. Lid set for an additional $4.95, bringing your total to $19.90. There is a 60-day money-back guarantee. When we first reviewed the product, Mr. Lid was $19.95 back in 2013, and this price was later reduced. The second set used to be an additional $7.95, which was also reduced in 2015.
In stores: You can find Mr. Lid in stores such as CVS, Walmart, Big Lots, and Bed, Bath, and Beyond for about $10. We purchased Mr. Lid at a Big Lots for $10 in late 2013 for this review.
We suggest purchasing locally to avoid shipping charges and delays, and to expedite the return process should be unsatisfied with the product.
Website
Below is a screen shot of MrLid.com, taken in August 2015.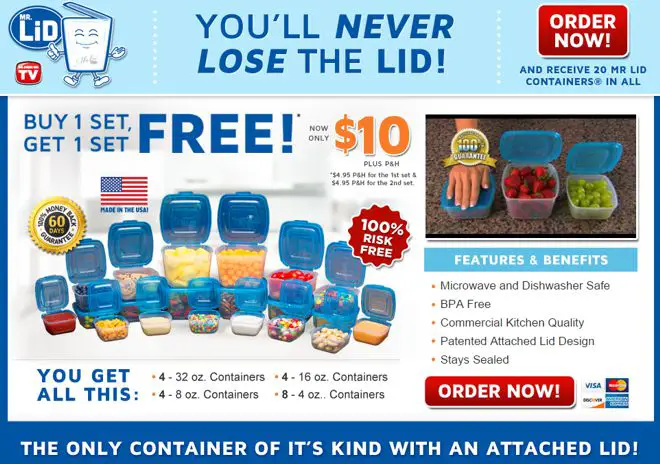 Television Commercial
Below is a TV commercial for Mr. Lid featuring Marc Gill. The commercial below states that it is not available in stores, but that is no longer the case. A similar version of the TV spot below began running in late 2014, with a different announcer.
Transcript of television commercial
These missing lids are a giant waste!  Now never lose another lid again. Hi, I'm Marc Gill with the one and only container with a lid that stays attached. It's Mr. Lid. The secret with Mr. Lid is the patented lid design with SealSafe hinge so the lid always stays attached. This revolutionary technology is not available in any store on any other container, anywhere! Look, ordinary containers leak air, so bacteria and germs spoil food. Mr Lid's SealSafe hinge locks in freshness so food lasts longer. It always stays sealed and it's so durable they won't even collapse when I stand on them. That's a waste of space, but Mr. Lid stacks neatly, completely, so it's like having an extra cabinet! Flimsy containers melt in the microwave and dissolve in the dishwasher, but durable Mr. Lid is microwave and dishwasher safe and BPA free. Great for packing the little one's lunch because the lid never gets lost!  Oh no, that ice melted, but lunch stays perfectly dry. Store hardware, Fido's food, toys or crafts. Stop spending hundreds of dollars buying flimsy containers and countless hours searching for lost lids. Now get three small, three medium, and three large Mr. Lids with attached lids all for just $19.95. I'll even give you a second set free, just pay separate processing. But I'm not stopping there. You also get the super salad set with the spill-proof snap-in cup, a $20 value, yours absolutely free! We're even offering a 60-day, 100% risk-free money-back guarantee. We'll even pay your return shipping. You get it all, 20 Mr Lids with attached lids and money-back guarantee. An $80 value all for just $19.95. Don't forget to ask about the super-size value set, so call now.  
Sponsored Links
Our Mr. Lid Review
The Mr. Lid advertisement above may lead one to think this is simply another As Seen on TV product, likely possessing shoddy construction and overstated claims. We found, however, that Mr. Lid is not without merit. Below are our observations after using Mr. Lid for nearly two years:
Design: Mr. Lid's design does solve the problem of lost and mismatched lids.
Construction: Although our first impression was that the plastic didn't seem as sturdy as some of the name-brand plastic-ware available, the containers have held up after nearly two years of constant use.
Stacking: This is a feature that received mix reviews among our staff. Mr. Lid doesn't store in the same manner as "regular" containers. To stack them, they must be stored face-down in an open position. While this does allow you to nest containers, this method seems to put some strain on the hinged area of the lid, which is perhaps why some users have claimed that the lids became detached. We ended up storing them with lids closed in a stacked position.
Sizes: The set contains 4 oz, 8 oz, 16 oz, and 32 oz containers. We would have traded a few of the 4 oz units for a 64 oz container.
Leakage: We had occasional leaks when using the product. Other readers have reported this as well. This could once again be indicative of plastic of a lower level of durability than high-end containers.
Mr. Lid is still our go-to container.
Over 300 customers on Amazon give Mr. Lid a 4 star rating. Most customers there express general satisfaction with the product, although a few echo our sentiment that the set includes too many small containers.
History
The Google Trends chart below shows search history for Mr. Lid. Interest in the product peaked in January 2013, but has had several smaller surges since.

Bottom Line
Mr. Lid solves the problem of lost and mismatched lids, helping keep cabinets less cluttered. We have found that the product has withstood nearly two years of average use, and it has become a valuable addition to our kitchen.
Your Turn
Have you used Mr. Lid containers? Give us your reviews in the comments below.
Updated August 10, 2015
Originally published December 2013